In the Investment Banking Analyst and Associate-level recruiting processes, the resume plays a disproportionately important role. It's the document bankers look at to decide whether to invite you to an interview.
But the job application isn't the only time your resume plays a critical role. It also helps in the selection for competitive clubs and events. It's necessary in networking, when you send the resume to the bankers before the informational chats. And it serves as the backbone of your answer to the most important interview question: "Walk me through your resume." In other words, half the battle is won just by having a solid resume.
Given its importance, you'd be surprised by the sheer volume of poorly structured and written resumes out there. We saw it firsthand during our time sitting on Goldman Sachs's IBD recruiting teams for several private and public universities. These candidates often lose right at the starting line.
So we decided to create 10X EBITDA's very own investment banking resume template. You can download them below. Our resume designs incorporate all the major items we look for on the IBD recruiting teams. We have three different templates for undergraduate college students, MBA students, and career switchers. Simply download the template, write in your own experiences and you'd be good to go:
College Students
Undergraduate Investment Banking Resume Template / Example (WORD)
Undergraduate Investment Banking Resume Template / Example (PDF)
Graduate Business School Students (MBA)
MBA Investment Banking Resume Template / Example (WORD)
MBA Investment Banking Resume Template / Example (PDF)
Experienced Professionals
Career Switcher Investment Banking Resume Template / Example (WORD)
Career Switcher Investment Banking Resume Template / Example (PDF)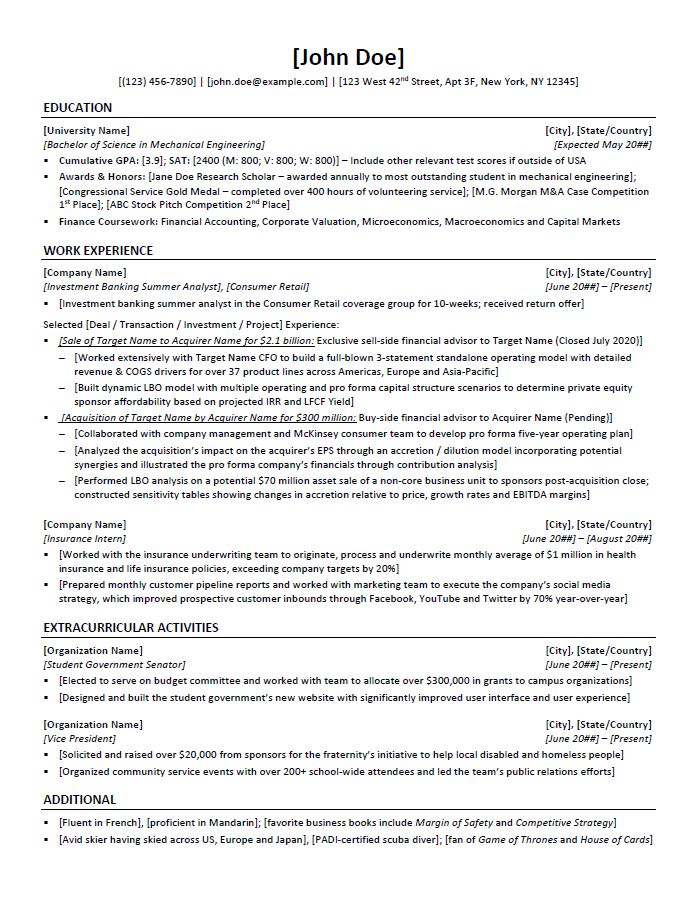 What Firms Look For in an Investment Banking Resume
The Investment Banking Analyst and Associate jobs (summer internship and full-time) are entry-level roles. For this reason, the investment banks generally look for two qualities on your resume.
Do you have a history of excellence at whatever you do? (i.e. GPA / test scores, awards & honors, brand name work experiences, competition wins)
Do you demonstrate an interest for finance, specifically investment banking? (i.e. School major, past internships, clubs)
Now you'll often hear banks talk about the other qualities they look for, like creativity, personal impact, leadership, entrepreneurship, etc. That's true. But they look for those in interviews. On the resume, bankers are looking mainly for the 2 qualities above.
History of Excellence
The most important characteristic banks look for is a history of excellence at whatever you do. It doesn't have to be about academics or finance. You can show excellence in anything you're passionate about. It can be soccer, violin, dancing, stand-up comedy, scientific research, YouTube channel, etc. Everybody has different personalities and bankers understand that. So the focus is not about what your hobbies are or what your major is. What they care about is whether you can excel at whatever it is you enjoy doing. Why does this matter if it has nothing to do with finance? Because the underlying personal characteristics necessary to succeed in any field are largely the same.
Excelling in any area usually requires you to put in significant time and effort. It requires a mixture of hard work, concentration, memory, discipline, perseverance, organization, etc. These are all personality traits necessary to succeed in finance. Now, you might not definitively succeed in finance with these characteristics, but you'll certainly fail without them.
The bankers don't know you. They only have a piece of paper to decide whether to interview you. Therefore, the best quality they can look for that can serve as a proxy for these characteristics is a history of excellence at whatever you do. That's why the recruiting teams focus intently on whether you possess a track record of excellence. By the way, it's not just the investment banks that care about this. The top consulting firms like McKinsey, Bain and BCG look for this quality too.
Demonstrate Interest for Finance
Because the analyst and associate jobs are entry-level roles, the investment banks care a lot about your interest in finance. They're trying to figure out whether this is something that truly interests you. The rationale is that candidates who have exposure to investment banking know what they're signing up for. They have a sense of what the job entails. Banks care about this so they can hire people who enjoy the work. Employees who enjoy the work will add a lot more value than those who dread it.
You demonstrate interest in investment banking by having finance credentials on your resume. Things like academic major, school coursework, online coursework, internships, clubs, books, competitions, etc. It's a lot less risky for the banks to hire someone who has a demonstrated interest in finance than someone without any finance background.
This often seems strange to candidates who are fully committed to investment banking. Aren't everyone applying to investment banking passionate about finance? The truth is, banks get a ton of applications from people who just apply without knowing much about the job. People who learn about investment banking last minute and decide to give it a shot. It's very risky for the banks to hire these people even if they have a history of excellence because they can quickly realize they don't like the work. By looking for proven interest in finance on the resume, the banks can screen them out.
How Firms Review Your Investment Banking Resume
The exact process varies by bank, but here's how it generally works.
After you apply, the HR Department compiles all the resumes into resume books, usually in alphabetical order. Then they send the resume books to the relevant recruiting teams, consisting of investment bankers.
For the standard Investment Banking Summer Analyst and Summer Associate programs, the banks usually organize the recruiting teams by schools. Each school's recruiting team usually consists of bankers from that particular school. So the Georgetown recruiting team will review Summer Analyst applications from Georgetown. Harvard Business School recruiting team will review Summer Associate applications from HBS. You get the idea.
Sometimes, they'll also organize additional recruiting teams by other factors. They might have a diversity recruiting team, for example, or a STEM recruiting team.
Additionally, the regional offices often have their own recruiting teams consisting of bankers from that office. SF bankers will decide who they interview for SF. Regional offices don't feel comfortable handing their offices' hiring decisions to school teams.
For career switchers, the staffer / manager of the group you're applying to will likely review your resume.
Once the recruiting team gets the resume book from HR, the bankers will schedule a discussion to decide who to interview. They usually don't review the resume book beforehand. Your resume ranks very low on the bankers' priority list to be honest. They care much more about actual client work, gym and sleep than your resume.
In a team meeting setting, it's inconvenient to wait for everyone to read each resume. And plus, to read each resume would take hours! So bankers usually just glance over your resume for ~30 seconds and make a decision. Then they send the interview selections to HR and HR communicates it to you.
30-Second Optimization
So now you know the investment bankers glance over your resume for just 30 seconds. It's critical to design your resume in such a way that makes these 30 seconds count.
In those 30 seconds, the bankers are glancing over the resume to see what stands out. If they like what they're seeing, they might read the bullets here and there. Said differently, your resume needs to convey the most important information about your candidacy from just a glance.
The ability to effectively convey this information over a 30-second glance is the result of resume design. Not the result of bullet wording.
Yet, we see candidates spend plenty of their time writing the bullets and not enough time on the design. That's not to say bullets aren't important. The wording of the bullets is important. But the bankers won't even get there if they don't like your resume from that 30-second glance. And for that glance, the design is far more effective at conveying key information than bullets.
That's why we spent a significant amount of time thinking through the investment banking resume template format and structure. We want your resume to shine the best light on the two qualities that matter the most within 30 seconds.
General Formatting Guidelines
First and foremost, your investment banking resume should be 1 page only. Candidates for opportunities in US, Canada and parts of Mexico should use Letter-size paper (8.5" x 11") in Word doc. Candidates for Europe and other regions should use A4 (8.27" x 11.67").
Second, you should fill up most of the white space (leave some to balance the visual). This creates a powerful perception that you have a lot of meaningful experience. This is what you want.
We looked over our own resumes of the 10X EBITDA investment banking coaching team. Coincidentally, all of our resumes have this common characteristic where the resume is largely packed.
The most injustice you can do to your resume if you have a lot of experience is to write single-line bullets that conclude in the middle of the page. This creates a lot of white space on the resume. Now don't take this literally where you force each bullet to take up the entire line. It's perfectly OK to have some bullets that end middle of the page. You just have to strike a balance to avoid having too much white space.
Some people might say this is "too crowded". We don't deny there's a lot of text. But then again, bankers aren't reading it, remember? They're just glancing. A text-heavy resume can yield a much more powerful perception than a resume full of white space.
On the margins, our template defaults at 0.55"on all four sides. You can shorten or lengthen the margins depending on how much you want to write. However, we recommend that you don't go higher than 1" or lower than 0.4".
Third, experiences in each section should be presented in reverse-chronological order. Meaning, you should order your most recent experience first, and then the previous experience.
Make the Investment Banking Resume Finance-Oriented
Recall that one of the two qualities recruiting teams look for is a demonstrated interest in investment banking.
The best proof of interest is having investment banking work experience (i.e. IBD internships). Other finance professional experiences will suffice, but investment banking internships work best. Academic major / concentration and student organizations, like investment clubs, will also add credibility.
But what if you come from a non-traditional background and you don't have any of these?
Luckily, there are other ways to make your resume seem more finance-oriented.
Absent of past work experience, academic major, and student organizations, these are some other ways you can sprinkle interest in finance over your resume. Do you have other ideas? Let us know in the comments.
The Education Section
Your academic credential is extremely important for investment banking recruiting. This is one of the places where recruiters look to see if you have a history of excellence.
Let's get the basics out of the way. Include your school name, location, expected graduation date, degree and major. Also include your GPA, test scores, and awards / honors.
GPA and Test Scores
If you're still in college or <4 years out of undergrad, you absolutely need to write out your GPA. This is a must. GPA matters not because it's the best measure of how smart you are. It matters because it's the most straightforward metric for a history of excellence. Getting a high GPA requires students to put in hard work, meet deadlines, participate in classes, persevere through mundane tasks, etc. All characteristics that are transferrable to investment banking. Students with low GPA either don't have the intellectual prowess to cut it or lack these other characteristics. Therefore, banks give a heavy weight to GPA.
For those of you who have a low cumulative GPA, consider using your major GPA instead. Back out the courses outside of your major and see if your major GPA is higher. If it is, you can try to list that number instead. A word of advice. Only calculate major GPA if you have grades from multiple courses in your major.
You can also slightly package it by rounding it. So 3.45 becomes 3.5. And 3.67 becomes 3.7. You have to follow the standard mathematical rule here though and 0.05 is the minimum cutoff required to round up. If you have 3.71, you can't round it to 3.8. In any case, rounding the GPA will give you a little extra boost.
You should also include SAT scores if it's above 1400/1600 or 2100/2400. You should include ACT if it's above 32.
If you're in MBA or have >4 years of experience, you don't need to include undergraduate GPA on your resume. You should still include your undergrad GPA, SAT / ACT, and GMAT (>710) if they're high enough. It adds to your profile. But if they're low, you can just keep it off the resume.
Awards and Honors
If you're the recipient of any impressive awards and honors in schools, you should write them out! Don't be afraid to brag.
Honors Program. Dean's List. First Year Honors. First Class / Second Class / Third Class. Cum Laude / Magna Cum Laude / Summa Cum Laude. Distinction / High Distinction / Highest Distinction. Beta Gamma Sigma. Phi Beta Kappa (business). Tau Beta Pi (engineering).
Showcase your history of excellence!
If you're the winner of any competitions, you can write them out here too. Stock pitch competitions, investment banking case competitions, scientific research competitions, chess tournaments, etc. Being a semi-finalist or finalist can add value here too. Doesn't necessarily have to be 1st or 2nd place or national champion. What the resume reviewers are looking for is success in whatever you do.
If you're the recipient of any scholarships or other awards, talk about them. You can add a quick explanation next to each award to clarify the selection criteria. Example: "John D. Smith Scholarship (Awarded to 1/1,000 applicants for research in biochemistry).
These awards and honors will add to the perception that you have a history of excellence.
The Work Experience Section
In this section, you should show your most significant professional experiences that align with your personal story. You may have 7 different internships or 10 different jobs. You shouldn't write about all of them. Instead, try to write about the 3 most recent significant experiences.
However, you shouldn't treat all 3 experiences equally on the resume. For example, you might have a finance internship, a biology internship and a part-time waiter job on your resume. In this case, the finance internship is far more important than the other two. The finance internship should take up the bulk of the section and have more bullets than the other two. If you have a highly relevant or prestigious job, you should assign it greater weight by giving it more space.
The Extracurricular Activities Section
The Extracurricular Activities section is for undergraduate students and non-MBA graduate students without full-time work experiences ONLY.
MBA students and career switchers shouldn't have a whole section on this. You should use the space for your work experiences instead. Resume reviewers will place far greater importance on your professional work experiences than your campus involvement.
For college freshmen and sophomores, this section can take up a big part of your resume. By junior year, however, you should have 2-3 internships under your belt and student organizations should take up less space. Now some of you may be overachievers with a ton of meaningful internships. Nonetheless, we still recommend you to have a section on campus involvement. That's because resume reviewers are used to looking for extracurricular activities for college students. Overachievers with 3-4 finance internships are rare and most college students have extracurricular activities on their resume. So the resume reviewers often become accustomed to look for it. They might assume you're not active on campus if you don't have anything.
Similar to the Work Experiences section, not all extracurricular activities are created equal. Involvement in finance-related student organizations are far more important than other clubs. You need at least one. However, additional finance clubs beyond the first one won't add much incremental credit. You're better off including other student organizations to round out your profile.
Aside from finance clubs, three other types of organizations are also beneficial. Sports teams, social fraternities / sororities, and activities that provide impact beyond yourself. Being on a sports team imply teamwork and ability to endure rigorous training. Social fraternities / sororities indicate a candidate is likely sociable and not awkward to be around. And charitable activities that have an impact beyond yourself, like helping the homeless or raising cancer awareness, are always good.
"Tribal" Organizations
At some universities, there are certain clubs where alums of those organizations are particularly supportive of candidates from those organizations. Oftentimes, the alumni and older members of those clubs go out of their way to help the younger members. This is a very powerful force in recruiting and can make a game-changing impact.
Members of these organizations develop a powerful "tribal" mindset where they view other members as "their people". It's the same mindset that inspire a university's alumni to help students from that university. Except instead of at the university level, this mindset is now at the student organizational level.
As we explain above, it's usually the alumni bankers of a school that review the resumes from that school. And they're often very supportive and vocal for candidates from their clubs. This has a tangible impact where their support could spell the difference between interview vs. no interview. Fair or unfair aside, this is how business works.
We usually see this tribal mindset in clubs that have a degree of exclusivity. That is, clubs that only accept a small portion of their applicants. At most universities, those tribal organizations are the competitive finance clubs and the fraternities / sororities. Ivey Business School's Western Investment Club (WIC) is a good example of the former. WIC alums have a disproportional representation in each year's investment banking and private equity placement. UC Berkeley's Delta Sigma Pi is an example of the latter. Both churn out top talent each year and are well-respected.
If you're in one of these tribal organizations, you should include it on your resume.
Quick Note on Student Organization Officer Titles
When you write about these clubs on your resume, avoid ridiculous titles. Nothing invites mockery from bankers like students titling themselves "Managing Director", "Managing Partner", "Chief Executive Officer", or "Global Head". You'll appear pompous and they'll laugh at you – and not in a good way.
Please stick to the safe titles: "President", "Vice President", "Lead Analyst", "Rush Chair", "Social Chair", "Student Senator", etc.
How to Write Bullets in an Investment Banking Resume
Writing the bullets for Work Experience and Extracurricular Activities is as much of an art is it is a science. In this section, we'll learn how to craft bullets that impress bankers.
First of all, avoid writing short bullets. Any single-line bullet that stops in the middle of the page is too short. A single-line bullet should take up at least 75% of the writing area width.
Second, the most important experiences should have more bullets than other experiences. These important experiences are (1) your most recent job, (2) finance internships and (3) finance clubs.
If you have 3 work experiences and none are in finance, give the most recent experience the most bullets.
If you have 2 investment banking internships and 1 marketing internship, the 2 banking internships should have the most bullets.
And if you have a finance club, a sports team and a service club on your resume, give the finance club the most bullets.
When it comes to your resume, don't assign weight based on your contributions. Assign weight based on the relevance to investment banking.
Third, use buzz words. These are keywords that will register instantly with bankers and make your experiences seem relevant from a mere glance. Examples: EBITDA, IRR, CapEx, DCF, M&A, LBO.
Fourth, use the project-centric format for experiences where your contributions revolve around particular projects. That's the part in our resume template where we have "Selected [Project / Deal / Engagement] Experience".
Fifth, always talk about your actions and occasionally results. Every bullet should explain exactly what you did. So start each bullet with a verb in past tense. You should also selectively include the results or impact of your actions (i.e. raised $200,000, improved revenue by 10%). Don't go overboard or exaggerate.
The Additional Section
After glancing through an entire page of your experiences, bankers arrive at the bottom of your resume: the Additional section. Frankly, this section won't get you an interview on its own. If you have poor academics and work experiences, an incredible Additional section won't save you. However, it can make a difference if interviewers are on the edge. It can also be the tie breaker if interviewers are debating between you and another candidate. Having an eye-catchy Additional section might just win them over.
Another reason the Additional section is important is that it often comes up in interviews. Interviewers often refer to the bottom of your resume towards the end of the interview. And what you write in the Additional section can steer the conversation towards these topics.
In this section, you can include other qualifications that might be relevant to investment banking. Languages, volunteering work, inventions & patents, unusual achievements, favorite books, interests, etc.
For languages, as a best practice, don't say you're fluent in the language you write your resume in. Candidates in English-speaking countries should leave "Fluent in English" off your resume.
For candidates outside of the US, it's particularly important to include fluency in other languages if your resume's in English. This is especially true for investment banking roles in Europe and Asia-Pacific. That's because these regions consist of many countries with their own unique languages. If you're applying to Analyst roles in Europe and you're fluent in French & German, you should mention it!
Personal Interests
As your last bullet, we recommend you to write about your interests. It humanizes the resume by adding a dose of personality to it. This is a great way to end your resume. Bankers often comment on the interest section during resume review. And they'll even ask about them during interviews, which can be great ice breakers. Often the interviewers will have the same interests, so it's a great way to establish a personal connection.
That said, you should be thoughtful about how you write your interests. "Pianist" is plain and boring. "Pianist with 3 Carnegie Hall concert series"? Now that's a lot more interesting. "Student of history" is plain and boring. "Passionate student of feudal Japanese history" is much better.
You can include unique interests that showcase your personality. However, try to balance them out with interests that other people can relate to, such as basketball or TV series.
"Skills and Certifications" in an Investment Banking Resume?
We often see investment banking resumes from candidates with a line on "Skills and Certifications", like the below.
Notice that we don't have such a line in our template. This is on purpose. In the context of investment banking interview decisions, "Skills & Certifications" is pretty useless. In all our years sitting on the banks' recruiting teams, we can't recall ever extending interviews due to these "skills". Or rejecting a candidate for the lack thereof.
Self-proclaimed proficiency in MS Excel + Word + PowerPoint adds no points to your candidacy whatsoever. Anyone can say they know how to use Excel + Word + PowerPoint. Such a statement is meaningless. Bankers also hold the view that candidates outside of IBD don't use these programs in the same rigor as bankers. In fact, it'll probably harm your candidacy if you can't answer basic question on them in the interview. Like, what does Alt + D + T do in Excel?
As for other skills, like programming languages (i.e. Javascript, Python) and design software (i.e. Illustrator, Photoshop), they're irrelevant. In fact, the banks might not even allow you to code or install design software on your work computer. They take IT infrastructure very seriously. The bulge-bracket and elite boutique banks have in-house programming and design teams anyways. Said differently, those skills are irrelevant to the investment banking role you're applying. Now, if you won some coding national championship or design contest, that's different. That shows a track record of excellence. You can write these elsewhere on the resume.
As for certifications, bankers don't really place much value on those either. By the way, please leave "Certificate of Appreciation" of any kind off your resume. If you have things like CFA, CPA, and Series 7, you can list those separately in the Additional section.
What about Private Equity and Hedge Funds? 
We designed these investment banking resume templates in this article for candidates recruiting for investment banking analyst and associate roles. It can also be used at the Vice President level. If you're a full-time professional recruiting for the buyside, you should use our private equity resume template instead.
College students recruiting for the buyside can use the same template in this article.
Investment Banking Resume Disclaimer
While we believe this investment banking resume template is far better than most applicants' resumes, it's not a magical resume. This should go without saying, but the template won't automatically get you into Goldman Sachs or Morgan Stanley. You need to fill in the resume with substance from your own personal experiences. And that's really the key determinant of whether you'll get an interview. The resume template helps you to effectively communicate those experiences to the reviewer.
Reinforce Your Investment Banking Resume with Strong Technicals
Having a great resume is just the beginning. You need to back it up with strong technicals to break into investment banking.
The better your resume, such as the more finance experiences you have, the harder the interview technical questions you'll get. This is especially the case if you're looking to break into the elite boutiques. They tend to be a lot more technical than the bulge bracket banks. If you would like to learn technicals for investment banking interviews, we highly recommend you to take this course. It's taught by a former Goldman Sachs investment banking analyst who worked in both large cap private equity and long short equity hedge fund.
You can also visit our Guides section for e-books on HireVUE questions and cases.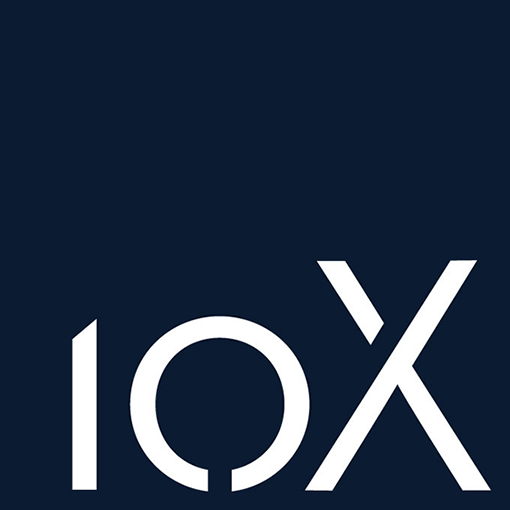 About 10X EBITDA
We are a small team composed of former investment banking professionals from Goldman Sachs and investment professionals from the world's top private equity firms and hedge funds, such as KKR, TPG, Carlyle, Warburg, D.E. Shaw, Citadel, etc. Our mission is to cultivate the next generation of top talent for Wall Street and to help candidates bring their careers to new heights. We're based in the United States, but we have expertise across Europe and Asia as well.